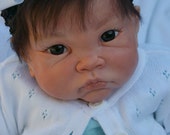 I have created this beautiful Reborn Baby Girl from the Fei Yen kit by Cindy Musgrove.
* She is 23 inches long.
* Weighs 5lbs 8oz.
* She has a full jointed 3/4 limb doe suede body filled with glass beads, poly pellets and poly fill. No sand or inferior products have been used.
* She is professionally painted using Genesis Heat Set paints baked one layer at...
Click Here to Visit My Etsy Shop!